Dawee M. asks:


I am looking at your programme ExpertGPS. Can the programme convert a kmz file from Google Earth to a shp file to use in GIS?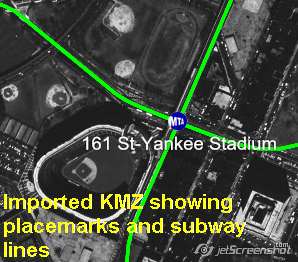 One convenient use for ExpertGPS Pro is as a converter from Google Earth's KML and compressed KMZ formats into GIS shapefiles, DXF CAD drawings, and other GPS and mapping formats. For this example, I'll convert the New York City subway lines and stations in KMZ format to SHP using ExpertGPS Pro. First I import the KMZ data into ExpertGPS Pro by clicking Import on the File menu, and selecting the KMZ file I downloaded from the Internet. ExpertGPS Pro converts the placemarks for each subway station into GPS waypoints, and converts each subway line into a GPS track.
Before I export the data, I have to decide what coordinate format to use to match my ArcGIS project. ExpertGPS Pro supports lat/lon, UTM, US state plane coordinates, and the national grid formats of Britain, France, and many other countries. New York City is covered by the New York Long Island state plane coordinate system, NAD83 datum, which I've selected in ExpertGPS Pro.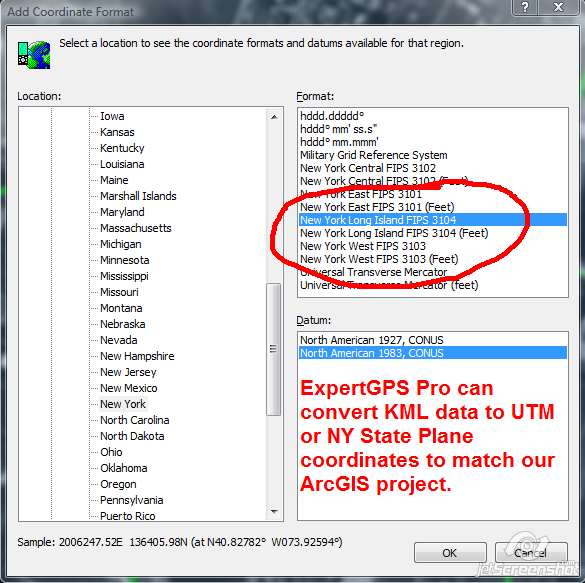 To export the subway stations, I click once in the Waypoint List, and then click Export Waypoints in List on the File menu. When prompted to save the shapefile, I change the File Type in the bottom of the Export dialog to Point Shapefile (.shp). I repeat the process to export the subway lines from the Track List as a Polyline Shapefile.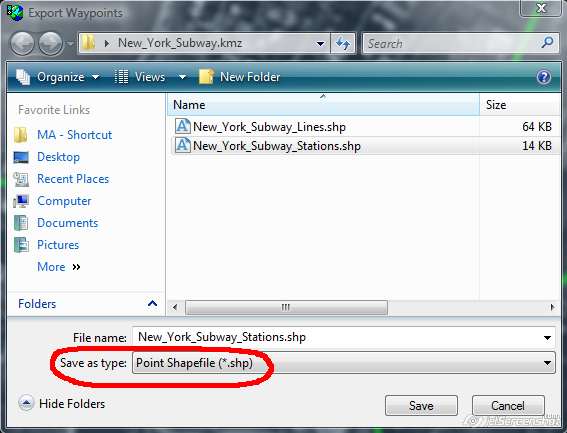 After you've done this once in ExpertGPS, you'll have the coordinate format already set to match your ArcGIS project, so converting additional KMZ and KML files simply becomes a two-step process. Import the KMZ, and click Export to convert it to a shapefile.
Related Topics
How to publish GIS layers to Google Earth KML
More file conversions with ExpertGPS Pro