How can I Compare Historical Topo Maps with Current Maps?
Mark H. asks:


I simply love using ExpertGPS software to look at areas before I go, and download gps data after I have been. It is simply great.
Lately I have been looking for topo maps that may be older than what displays. Primary purpose; to view and mark waypoints on terrain before it was flooded and became a lake. I am wanting to find contours on Lake Fork Reservoir before it was flooded. I can see this currently, but as I zoom in the images are after it became a reservoir. How can I zoom in on this area prior to flooding? Thank you.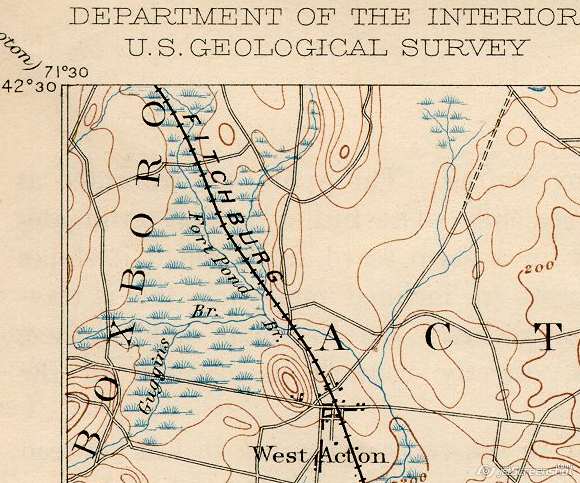 You can display historical topo maps in ExpertGPS using the Scanned Maps feature. After you've found and downloaded an old topo map, you can use ExpertGPS to calibrate it so that your GPS data will appear over it in the correct location.
ExpertGPS lets you switch back and forth between your scanned historical maps and the modern-day USGS topographic maps and aerial photos for that same location. You can mark modern features as waypoints or draw directly on the map to trace old railroad rights-of-way, and then see exactly where they lie on the modern maps and aerial imagery. If you're a history buff, like researching abandoned railroads, or want to find old farmsteads or house foundations, ExpertGPS can be a huge help in your historical research.
Finding Historical Topo Maps
Try some of these great sites for old US topo maps, or use Google to search for maps for your area
Historical Topo Maps of New England and New York
Historical Topo Maps of California
Historical US Maps at the Perry-Castañeda Library – this site is my favorite resource for scanned maps of all types.
Related Topics
Calibrating Scanned Topo Maps

Updated on 2020-10-26 by Dan Foster
Did I answer your question completely?
If you still have questions after reading this or the other ExpertGPS tutorials or have a file or a project you need assistance with, please get in touch using the form below, or send the file you're working with to support at expertgps dot com. I'm happy to walk you through how ExpertGPS can handle all of your mapping and data conversion needs.
ExpertGPS works with hundreds of GPS receivers
, including all
Garmin Drive
,
nüvi
,
eTrex
,
Colorado
,
Dakota
,
echoMAP
,
GPSMAP
,
Edge
,
Forerunner
,
Montana
,
Oregon
, and
Rino
models,
Magellan eXplorist
GPS receivers, and
Lowrance HDS
,
Elite
, and
HOOK
GPS chartplotters and fishfinders.
Download ExpertGPS
Find your GPS on the ExpertGPS compatibility list
.