Chad W. asks:


Our city is in the process of looking for map software that will enable us to go out and mark all fire hydrants, water valves, man holes etc. and then load these points to a gps for future use. Will this software accomodate us with these features?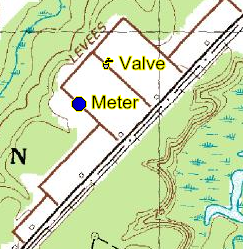 Yes, ExpertGPS will allow you to do this easily. Since your GPS doesn't have symbols for manholes and water valves, you can choose different symbols on your GPS to represent each of these items (Garmin GPS receivers have a Drinking Water symbol, which could represent a valve, for example). ExpertGPS allows you to assign data types to waypoints based on the symbol used on the GPS, so that every Drinking Water waypoint would be given the type "Water Valve" when you receive the data from your GPS. You can customize the way Water Valves are displayed on the maps in ExpertGPS using the Edit Waypoint Type dialog.

Also can the map display street layout instead of the satellite views?

ExpertGPS can't currently display your data over street maps, but you can scan your own paper maps or bring in GIS data to represent the streets. The ExpertGPS help file has complete details about preparing and geo-referencing your maps for use within the program.