Real-Time Tracking: Using ExpertGPS as a Moving-Map Display
Updated by Dan Foster
The Tracking feature in ExpertGPS turns your laptop into a real-time moving map display. As you travel, ExpertGPS shows your position and heading on the map, and records a tracklog showing where you've been.
Tracking requires a GPS receiver or GPS antenna capable of continously outputting position, speed, and time information in a Tracking Protocol that ExpertGPS can interpret. ExpertGPS currently supports the NMEA 0183 protocol (via serial cable, USB adapter, or Bluetooth), Garmin's PVT (Position, Velocity, Time) protocol for USB-based GPS receivers, and Microsoft's Location API for Windows laptops with an integrated GPS receiver.
Configuring Popular GPS Receivers for Tracking
If you have a Garmin automotive GPS (nuvi, Drive) or handheld GPS that connects to your computer with a USB cable (Oregon, Montana, GPSMAP 64, etc), you'll use the Garmin PVT via USB protocol below. If, when you plug your GPS into your computer via USB, you see a question on the GPS screen asking whether to switch to Mass Storage, click No. If you have a Garmin Rino or Alpha, select Basestation Mode, and ExpertGPS will also track your hunting dogs or your Rino units out in the field.
Some devices, like Garmin's fitness bands and sports watches, simply don't support real-time tracking.
Configuring a Tracking Protocol
Before you can use ExpertGPS as a moving-map display, you need to configure the Tracking Protocol that your GPS or tracking data source uses.
To show the Tracking dialog, do the following:
Do one of the following:
Click on the

Tracking

tab in the Preferences dialog.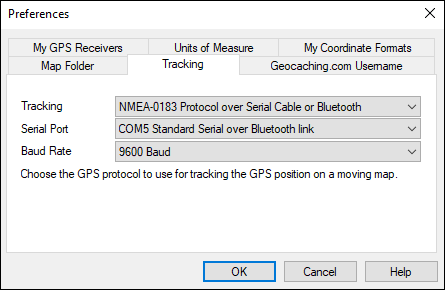 Choose a tracking protocol, and specify the serial port settings that ExpertGPS will use to connect to your GPS.
NMEA - GPS Active
The NMEA protocol is a serial data protocol supported by almost all marine equipment, and by almost all older GPS receivers. Very few modern computers still have serial ports, so if your GPS or marine electronics output NMEA to a serial port, you will probably need a Serial-to-USB adapter to connect to your laptop. This adapter will come with its own driver software which will create a virtual COM port on your computer. Select that virtual COM port as the Serial Port in ExpertGPS.
If you have a Bluetooth GPS receiver, it will also have a driver that creates a virtual COM port for ExpertGPS to use.
The Serial Port list in the Tracking dialog will show every active, working COM port on your computer, including physical RS-232 ports (rare these days), and virtual COM ports created by your USB-to-Serial adapter or Bluetooth GPS. It's important that any hardware that creates a virtual COM port be fully installed, connected, and running before you start ExpertGPS, so that the virtual COM port is detected by ExpertGPS.
NMEA - GPS in Simulator Mode
Older Magellan and Lowrance GPS receivers had a Simulator or In-Store Demo mode, which you can use as an input to ExpertGPS if you can't take your GPS outside to get a lock on enough satellites to use the regular NMEA - GPS Active protocol.
Location API (Windows 7, 8, 10)
If you have a modern Windows laptop with an integrated GPS antenna, or if you are running another GPS program which is feeding location data to the Windows Location API, you can use this tracking protocol with ExpertGPS.
Garmin PVT/Spanner via USB
Most modern Garmin GPS receivers use a USB connection, and no longer support serial NMEA. Instead, you can set the Interface mode on your GPS to Garmin Spanner or Garmin PVT, and then plug your GPS into the USB cable connected to your computer. Your GPS will recognize the connection to the computer, and ask if you want to switch to Mass Storage Mode. Click No on the GPS, and then enable Tracking in ExpertGPS to start the flow of position, velocity, and time (PVT) data from your GPS to ExpertGPS.
On some older USB-based Garmin GPS receivers, you'll need to install the Garmin Spanner software on your computer. Consult your Garmin manual for assistance with this software.
Enabling Real-Time Tracking
The Enable Tracking command (on the GPS menu, under Real-Time GPS Tracking) toggles real-time tracking on and off.
The Tracking Displays
You can toggle on or off each of the Tracking Displays (Current Position, Satellites, Clock, Course).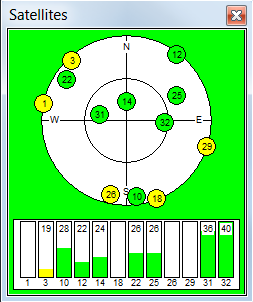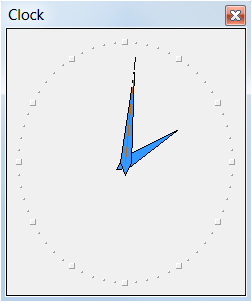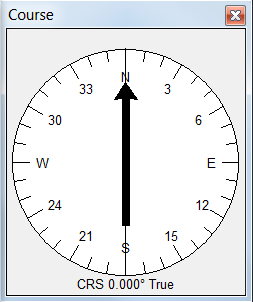 The clock can be especially useful to verify that ExpertGPS is receiving data from your GPS, because the seconds hand will update once a second if the GPS is connected properly, even if your GPS doesn't have a lock on enough satellites to start sending position data yet.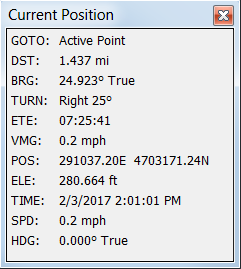 Navigating to a Waypoint
To navigate to a waypoint, right-click the waypoint and click Set Active Point. Then, click Navigate to Active Point on the GPS menu.
Navigating along a Route
To navigate along a route, click Follow Route on the GPS menu. If there is more than one route on your map, you'll be prompted to select which route to follow. ExpertGPS will begin navigating to the first point of the route. Once that point has been reached, ExpertGPS will begin navigating to the next point in the route.
Navigating to the GPS Destination
Some marine electronics and NMEA-based GPS receivers send the details of their current navigation target over the NMEA data stream. To synchronize the navigation in ExpertGPS with the destination selected on your GPS, click Navigate to GPS Destination on the GPS menu.
Navigating to a Man Overboard
You can quickly mark your current location on the map and begin navigating back to it by pressing Ctrl+M or clicking Man Overboard on the GPS menu. Apart from the obvious life-saving role this command can play, you can also use it to navigate back to a spot on the water if you see a school of fish or lose your hat as you're cruising along.
Tracklog Recording Options
To configure how often trackpoints are recorded while Tracking, click Real-Time GPS Tracking Options on the GPS menu.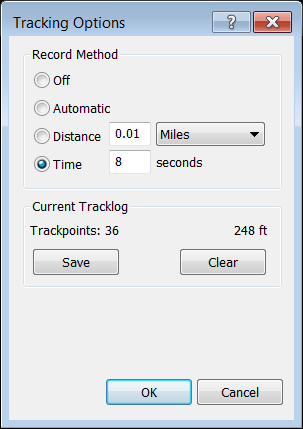 Saving Your Breadcrumb Trail while Tracking
To save and edit the tracklog (breadcrumb trail) that is automatically recorded while using Tracking, click Save Real-Time GPS Tracklog on the GPS menu.
Calculating Distance and Bearing to your Current Position
To automatically update the distance and bearing from your current position to all of the waypoints in the Waypoint List (or all of the geocaches), click Lock Active Point to GPS Position on the GPS menu. Each time your position changes (once per second, usually), the Waypoint List will refresh with the new distances and bearings from your current location.
Moving the Map while Tracking
If you are using ExpertGPS as a passive moving-map display, you want your current position to always be visible near the center of the map. Click Keep GPS Position On-Screen on the GPS menu, and ExpertGPS will automatically scroll to keep your position centered on the map.
However, there may be times when you need to scroll or zoom the map to look at another location, or to draw a new shape on the map. Press Ctrl+K or click this command again to toggle the on-screen position lock off, and then toggle it back on when you're done working and want to return to viewing your current location.