Receive from GPS Command
The Receive from GPS command allows you to copy all of the waypoints, routes, and/or tracks from your GPS receiver to ExpertGPS.
To receive data from your GPS, do one of the following:
On the
, click .
Click the
button on the main toolbar.
In a Map View, right-click on a blank spot on the map. On the
, click .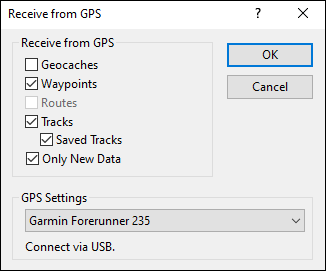 The Receive from GPS dialog will appear.
Receive from GPS

Check the box next to each type of data to transfer from your GPS to ExpertGPS.

GPS Settings

Select the GPS receiver that is currently connected to your GPS. The connection settings for the selected GPS receiver are displayed below. If the connection settings are not correct, close the Receive from GPS dialog and open the My GPS Receivers dialog to correct them.
If an Error Occurs:
Read GPS Transfer Errors.
Turn the GPS off and back on again to reset the GPS interface before attempting any further GPS actions.
ExpertGPS works with hundreds of GPS receivers
, including all
Garmin Drive
,
nüvi
,
eTrex
,
Colorado
,
Dakota
,
echoMAP
,
GPSMAP
,
Edge
,
Forerunner
,
Montana
,
Oregon
, and
Rino
models,
Magellan eXplorist
GPS receivers, and
Lowrance HDS
,
Elite
, and
HOOK
GPS chartplotters and fishfinders.
Download ExpertGPS
Find your GPS on the ExpertGPS compatibility list
.
© 1998-2023 TopoGrafix – 24 Kirkland Dr, Stow, MA – Email: support@expertgps.com