Export Image Command
Use the Export Image command to create an image of the map that you can post on your Web site, or use in a presentation.
To create an image of the map, do the following:
View a map.
On the
, click .
The Export Image dialog will appear, allowing you to customize how the image will appear.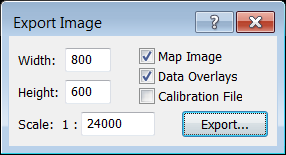 Width

Enter the width of the image.

Height

Enter the height of the image.

Scale

Enter the map scale of the image. This will already be set to the current scale of the map in ExpertGPS.

Map Image

To include the basemap (topo map, aerial photo, scanned map, etc.) in the exported image, check Map Image.

Data Overlays

To include your waypoints, routes, and tracks, as well as any GIS or CAD layers, on the exported image, check Data Overlays.

Calibration File

Check Calibration File to export calibration data which another program can use to display your exported image in the correct geographic location.

Export

Click Export to create the image.
Click Export to save the image. The Save As dialog will appear. Select the image type in the Save as type: list. If you checked Calibration File, a worldfile or map calibration file will automatically be created in the same location as the image file.

After you are finished exporting your map, do one of the following:
On the
, click .
Click the close box on the Export Image window.
ExpertGPS works with hundreds of GPS receivers
, including all
Garmin Drive
,
nüvi
,
eTrex
,
Colorado
,
Dakota
,
echoMAP
,
GPSMAP
,
Edge
,
Forerunner
,
Montana
,
Oregon
, and
Rino
models,
Magellan eXplorist
GPS receivers, and
Lowrance HDS
,
Elite
, and
HOOK
GPS chartplotters and fishfinders.
Download ExpertGPS
Find your GPS on the ExpertGPS compatibility list
.
© 1998-2023 TopoGrafix – 24 Kirkland Dr, Stow, MA – Email: support@expertgps.com