Kevin C., a hunter from South Dakota, asks:


I have a Lowrance XOG and would like the ability to save maps of Walk In Areas and School Lands from the State of South Dakota's website
Will your program allow me to convert these maps to my XOG so I can see these boundaries similar to how I currently view park and city boundaries.
If so, could I get a step by step instructions on how to save these to a SD card? Any help would be greatly appreciated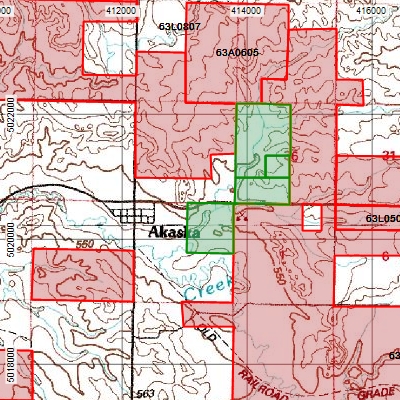 South Dakota and many other states put their public and walk-in hunting maps, WMAs, and other vital hunting information on their state GIS Web sites. You can use the GIS import features in ExpertGPS Pro to view all of this public hunting data over topo maps, aerial photos, or your own scanned BLM or other paper maps.
Download the hunting layers you need from your state GIS Website, and make note of the projection information given for each file. In this case, the South Dakota hunting map data is projected in UTM, Zone 14, WGS84 (or NAD83) datum. You'll need to add that coordinate format in ExpertGPS if you're not already working with it. Click Preferences on the Edit menu, switch to the My Coordinate Formats tab, and add UTM, WGS84.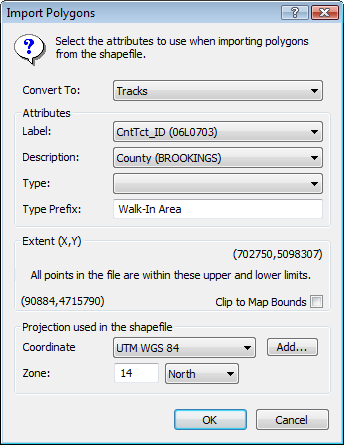 To import the hunting data, click Import on the File menu in ExpertGPS, and select the .shp file that you downloaded and unzipped. (You may need to change the file type selector at the bottom of the Import dialog to show Shapefiles). The Import Polygons dialog will appear – this is where you select the projection used (UTM) and specify the UTM zone (14 North). You can also choose which fields in the shapefile are mapped to the Label and Description of the tracks you create in ExpertGPS. Click OK, and you'll have all of the Walk-in Hunting areas in South Dakota overlaid on your ExpertGPS maps.
Sending Hunting Boundaries to your GPS
There are almost 4000 walk-in, public, and state-owned hunting locations in South Dakota. Your GPS doesn't have enough tracklog memory to display all of them. What you can do, is to use the topo maps and aerial photos in ExpertGPS to scout out the areas where you'd like to hunt, and send these few property boundaries to your GPS.
After you've identified a promising public hunting location, use the Select tool in ExpertGPS to click on a shaded boundary. Hold the Shift key, and keep clicking to select adjacent properties. Right-click, and click Copy Tracks. Create a new file, and Paste the tracks. Now you've got a smaller, more manageable file which you can refer to when planning your hunt. To transfer the property boundaries to your GPS, just click Send to GPS on the GPS menu. Since the Lowrance XOG stores its data on an SD memory card, ExpertGPS will prompt you to save your hunting waypoints and the tracklogs defining the land boundaries in a .USR file on the SD card. Place the SD card back in the battery compartment of your GPS, and use the menu command on the GPS to load the data from the card into the main GPS memory. (Consult your manual for the exact command – each Lowrance GPS is a bit different).
Be sure to print out a topo map from ExpertGPS showing the land boundaries and the terrain. If you print out a UTM grid over your map, and switch your GPS receiver to display its current location in UTM (rather than lat/lon), it's easy to keep track of where you are in the field by referring to the grid lines on your printed topo map.
By combining the wealth of freely-available GIS data from your state GIS and fish and game departments with the mapping capabilities of ExpertGPS Pro, you've got a powerful tool for scouting new public hunting areas and ensuring you'll have a successful hunt. Best of luck this hunting season!
Updated on 2020-10-26 by Dan Foster
Did I answer your question completely?
If you still have questions after reading this or the other ExpertGPS tutorials or have a file or a project you need assistance with, please get in touch using the form below, or send the file you're working with to support at expertgps dot com. I'm happy to walk you through how ExpertGPS can handle all of your mapping and data conversion needs.
ExpertGPS works with hundreds of GPS receivers
, including all
Garmin Drive
,
nüvi
,
eTrex
,
Colorado
,
Dakota
,
echoMAP
,
GPSMAP
,
Edge
,
Forerunner
,
Montana
,
Oregon
, and
Rino
models,
Magellan eXplorist
GPS receivers, and
Lowrance HDS
,
Elite
, and
HOOK
GPS chartplotters and fishfinders.
Download ExpertGPS
Find your GPS on the ExpertGPS compatibility list
.