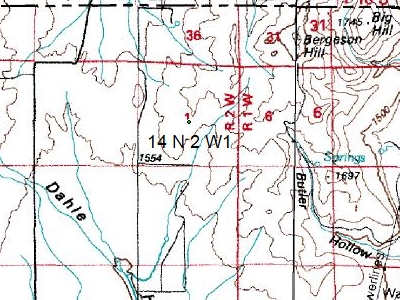 A long-standing feature request from ExpertGPS Pro users in the Western United States has been support for Public Land Survey System (PLSS) coordinates. For many of these users, locating and mapping parcels by township, range, and section (TRS) is a frequent task. While online TRS to lat/lon converters exist, having this capability built into ExpertGPS was their ultimate goal.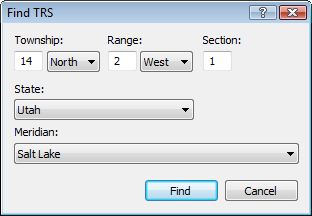 Tim Osborn pointed me to a TRS converter written in Fortran, and I've been working on integrating it into ExpertGPS Pro. The November, 2008 release of ExpertGPS Pro will feature a new Go to TRS command on the Go menu. Simply select your state and meridian, and enter the Township, Range, and Section, and ExpertGPS will recenter the map on that location and create a waypoint marking the section. Locating a parcel is now as easy as locating a street address in ExpertGPS.
The coordinate display readout in the lower-right corner of the main ExpertGPS Pro window will now display TRS coordinates in addition to lat/lon, UTM, or state plane. There is no setting to turn this on or off – if TRS coordinates are available for that location in your state, they will automatically be displayed.
Now the bad news: the TRS – lat/lon conversion is only available for these 17 Western states: AR AZ CA CO ID KS MT ND NE NM NV OK OR SD UT WA WY. Locations are approximate – the Go to TRS command will get you to the correct section, but if you need to locate the exact section corners, you'll need to do a bit more work. Luckily these are usually shown on the topo map view, or you can download TRS shapefile data from BLM with the section boundaries.