Here's a legal description of an actual parcel somewhere in the south – I've been using this as a test case:
Beginning at a point; thence S82°08'58"E, 666.90' to a point; thence S55°27'34"W,116.29' to a point; thence S64°05'57"W, 217.03' to a point; thence S73°35'56"W,107.97' to a point; thence N64°53'20"W, 187.07' to a point; thence N25°28'12"W,224.77' to the point of beginning; containing 2.032 acres of land.
Wouldn't it be nice to be able to just paste that into ExpertGPS and have it plotted automatically on the map? That's the goal, and I'm developing a new Import Legal Description wizard to accomplish just that. Here's an early prototype: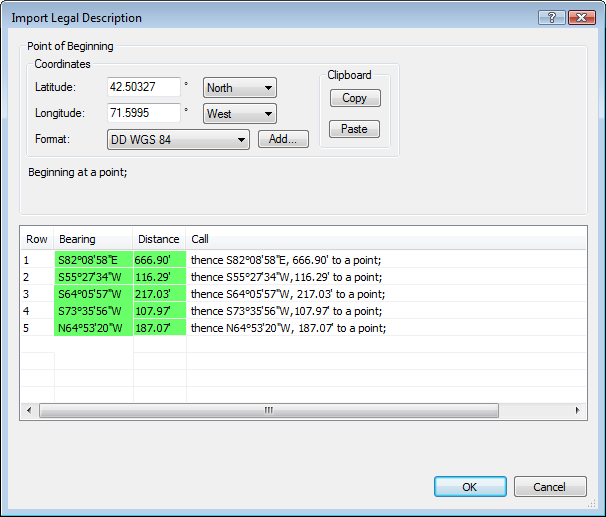 I just copy and paste the entire legalese right into the Route List. Normally this would bring up the Import Text wizard, but ExpertGPS now knows that if your text contains phrases like "Beginning at a point" and "thence", you must be importing a series of survey calls. Up comes the new dialog, and ExpertGPS scans your text and automatically separates it into individual calls. Each individual call is scanned, and ExpertGPS tries to pick out the bearing and distance from the text. If it is successful, that call is displayed in green. If there's a typo or something that ExpertGPS can't parse, you'll be able to enter the distance or bearing manually. Once all the calls are green, the OK button lights up and all you have to do is click it. Oh, you also have to tell ExpertGPS where the Point of Beginning is, either by entering coordinates, or (coming soon) by selecting a waypoint. You can see the resulting parcel as displayed in ExpertGPS.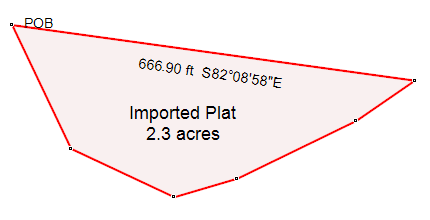 I still need to add support for curves and run as many test cases as I can find. This feature is in active development, so please send me an email or enter a comment below if you've got questions or suggestions.
Just to be clear: unless you are a licensed land surveyor, you should not be creating your own land "surveys". Just because a tool like ExpertGPS exists that will let you compute distances and bearings between points doesn't mean that you can create a legal survey of your property. ExpertGPS is a great tool for mapping old property descriptions or for assisting in the search for your property corner markers. But if you're going to be buying or selling property or making decisions based on property boundaries, you need a professional – a licensed land surveyor.