Nick H. asks:


Hi, can i use this program for NZ coordinates?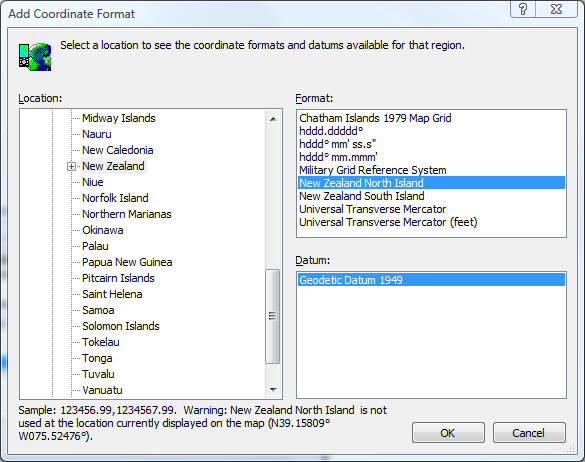 Yes, ExpertGPS will allow you to work with just about any coordinate format and datum, including New Zealand's North Island and South Island projections (Geodetic Datum 1949), as well as the local "circuit" grids of 1949 and the newer ones using NZGD 2000 datum. (Bay of Plenty Circuit, Chatham Island Circuit, Marlborough Circuit, etc)
Let's assume you want to use the North Island grid, 1949 datum. On the Edit menu, click Preferences, and click the My Coordinate Formats tab. Click the Add button to add a new coordinate format. Change the Location to World/Oceania/New Zealand. In the Format list on the right, click New Zealand North [or South] Island. In the Datum list on the lower right, click Geodetic Datum 1949.
You can add multiple coordinate formats, and switch between them in the My Coordinate Formats dialog, in the Edit Waypoint dialog, or in any other place in the program where you enter or edit coordinates.
To convert between two different coordinate formats, enter your data using the first format, and then make the second format the active one. ExpertGPS will convert all of your data to the second format. You can then export it in that format, print it, or send it to your GPS. (There's no need to convert formats before sending to your GPS, though – ExpertGPS always sends data to your GPS in the correct format so that it is always displayed properly)