John asks:


I need a tool to convert coordinates in NAD83 decimal degrees to NJ State Plane coordinates.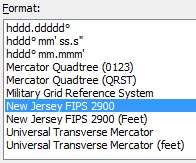 Converting coordinates using ExpertGPS Pro is an easy, three-step process. Unlike other mapping and GIS programs that force you to work in a single coordinate format, ExpertGPS allows you to switch between coordinate formats at any moment. Click Preferences on the Edit menu, and click the My Coordinate Formats tab.
Select your starting format – in this case, Decimal Degrees (latitude and longitude) in NAD83 datum. While you're in this dialog, go ahead and add the NJ State Plane Coordinate system. To do so, drill down in the Location tree to United States. Once you select New Jersey, the Format list will update to show all of the SPCS formats available in New Jersey. There are two. The default uses meters, and the one marked (feet) uses US Survey Feet. Choose which datum you require: NAD27 or NAD83/WGS84.
You can add as many coordinate formats as you want – just remember, the one that is highlighted is the active coordinate format, and this is the one that ExpertGPS will use when displaying your GPS data, and when importing new data. So make sure NAD83 decimal degrees is selected now.
Add your data – either by hand using the New Waypoint command, by receiving it from your GPS, or by using Import on the File menu. Your data is in NAD83 decimal degrees at this point.
To do the conversion, simply go back to the My Coordinate Formats tab in Preferences, and select New Jersey SPCS NAD83. When you make the change, ExpertGPS will reproject all of your data from lat/lon to NJ State Plane Coordinates.
You can copy and paste your data right into Excel, or use Export on the File menu to export your reprojected data to a shapefile, CAD drawing, or other format.
Related Topics
ExpertGPS Help: My Coordinate Formats dialog
State Plane Coordinate Formats in ExpertGPS