An ExpertGPS user asks:


How do I enter coordinates in a different format in ExpertGPS? I need to enter coordinates in lat/long and convert to UTM coordinates.

ExpertGPS allows you to work with any coordinate format (lat/lon, UTM, state plane, etc) and datum (WGS84, NAD27, NAD83…) You manage all of these in the My Coordinate Formats dialog.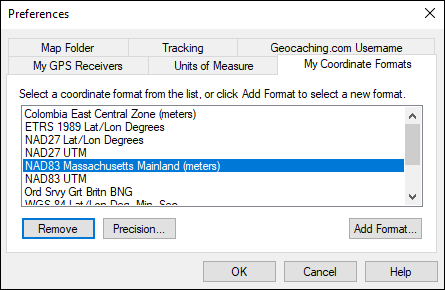 To add a coordinate format in ExpertGPS, click Preferences on the Edit menu, and click on the My Coordinate Formats tab. Click Add. The Add Coordinate Format dialog will appear. On the left is an expandable list of all of the continents, countries, and US states. As you expand the location tree, ExpertGPS will show the coordinate formats used in that region on the right side of the dialog. Drill-down in the location side as far as you need to go to see the coordinate format for your location. Select the coordinate format, and then choose the appropriate datum from the list below.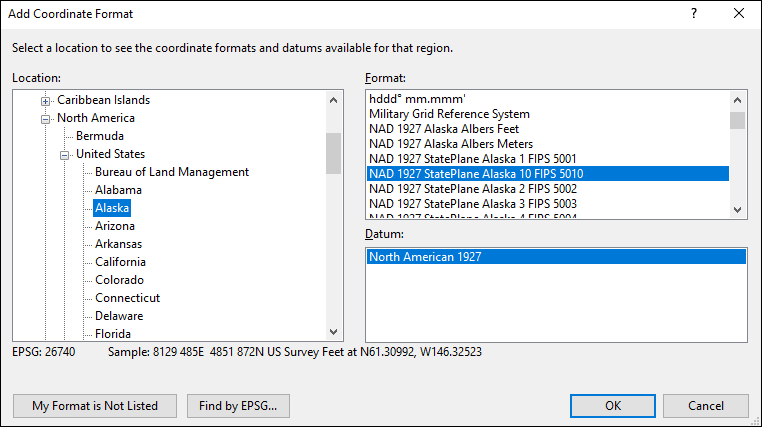 Need help choosing the correct format or datum?
Read Solutions to Common Coordinate Conversion Problems, a guide to identifying the proper coordinate format and datum to select for GPS, GIS, and map data in your geographic region.
Converting between two coordinate formats or datums
Here's the process:
1. Add or select your starting coordinate format.
2. Add your data.
3. Select your output format.
4. ExpertGPS instantly converts your data to the output format.
Need more help? There are detailed instructions on Converting between Any Two GPS Coordinate Formats or Datums.