Herb asks:


How do I find the orthocenter of the triangle created by three waypoints?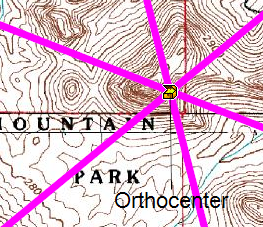 The orthocenter of a triangle is located at the intersection of the three lines. Each line runs through a vertex and is perpendicular to the opposite side.
Let's solve a geocaching puzzle cache that requires us to find the orthocenter of a triangle. By adding the three waypoints to a closed route in ExpertGPS or GeoBuddy, we can calculate the bearings along each edge of the triangle. By adding 90 degrees to each bearing, we can determine the direction of a line perpendicular to that edge. Now we can use the Project Waypoint dialog to project a line from the opposite vertex.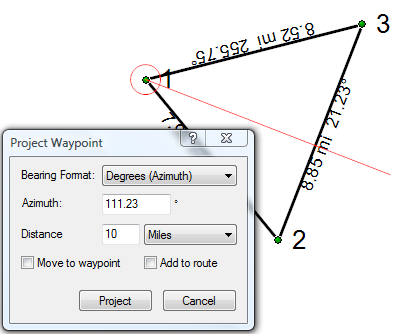 In the second screenshot, I'm projecting a line from waypoint 1 at 111.23 degrees (which is 90 degrees more than the bearing of the opposite edge – 21.23 degrees). Repeat three times, creating a new route between the vertex and the newly-projected waypoint, and you've found the orthocenter.