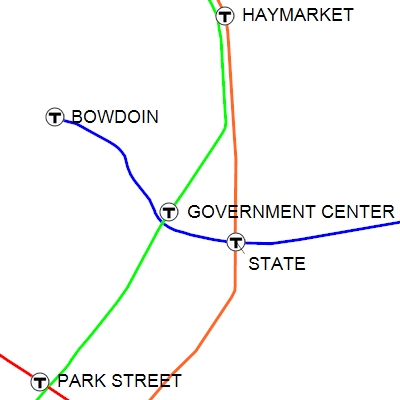 ExpertGPS comes with several hundred waypoint symbols you can use on your maps, but sometimes you need to create a map with your own custom symbology. ExpertGPS allows you to create your own custom map symbols, which you can use on your own maps. By placing your custom map symbols online, anyone who uses ExpertGPS, EasyGPS, or Google Earth can view your maps with the custom markers you created.
In this tutorial, I'll be creating a system map for Boston's MBTA system, the oldest subway in the world. Download the final GPX file: mbta.gpx
I started by importing free GIS shapefiles containing the subway lines and stations from MassGIS, the official GIS data agency in Massachusetts, into ExpertGPS Pro. Depending on your project, you might import GIS or CAD data, or retrieve waypoints and tracklogs from your Garmin or Magellan GPS using ExpertGPS. I then located the MBTA logo I wanted to use (as well as logos for the transit systems in Chicago, New York, and Washington, DC) at https://mic-ro.com/metro/metrologos.html




I used Adobe Photoshop (any image editor will do) to create 20×20 pixel transparent PNG files from each logo. If your image editor doesn't support transparency, your logos will appear over a white rectangular background on the map.



Creating a custom symbol set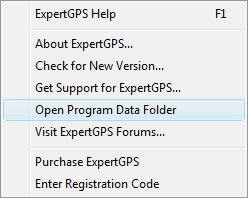 ExpertGPS stores all of its custom symbols in a special folder on your computer. Since this location varies from Windows XP to Windows Vista, the best way to get there is to click Open Program Data Folder on the Help menu in ExpertGPS, and then open the Symbols folder.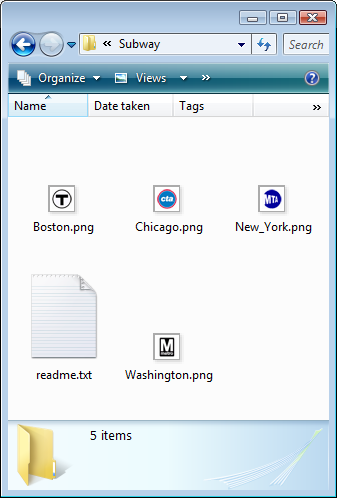 Create a new folder named Subway in the Symbols folder, and copy your PNG images there. You'll also need a special text file named readme.txt – create a new file, or copy it from one of the other Symbol folders.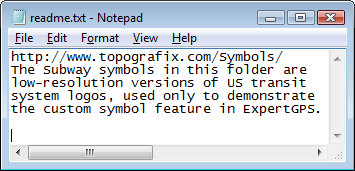 The readme.txt file you distribute with your custom map symbols has two purposes – to tell ExpertGPS where to find your symbols on the Internet, and to tell others the copyright and usage info for your symbols. You must enter a URL as the very first line of readme.txt The rest of the file is yours to put whatever copyright info you want.
The URL you put at the top of the file should point to a Web site that contains the custom symbols you create. If your site has two sets of symbols: www.mysite.com/my-symbols/Subway www.mysite.com/my-symbols/Railroad you would enter www.mysite.com/my-symbols/ as the base URL in each of their Readme.txt files.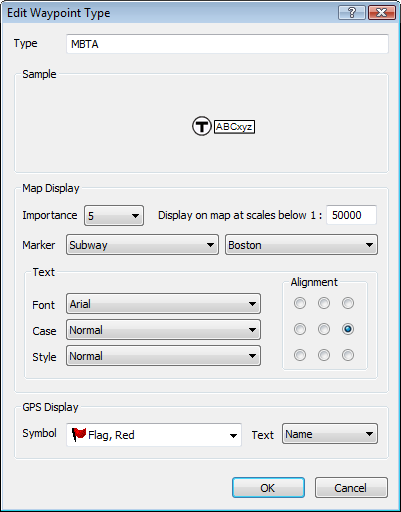 Restart ExpertGPS so that your new custom symbol set will be loaded. Now create or edit a waypoint, and click the New Type button at the top of the Edit Waypoint Type dialog. Select your new symbol set in the Edit Waypoint Type dialog.
Any waypoint that you assign your new Type to will be displayed using your custom symbol. If you distribute your GPX file to other ExpertGPS or EasyGPS users, their copy of the software will automatically contact your Web site to download the custom symbol you've posted online.
Creating custom placemark markers (pushpins) for Google Earth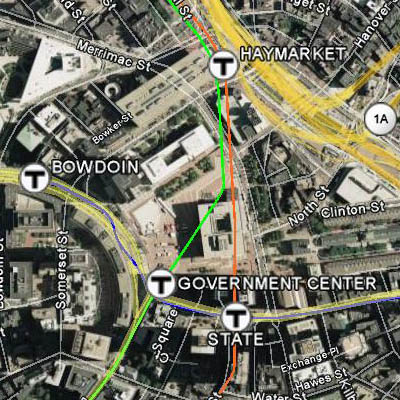 Any Google Earth KML files you create, by clicking Export on the File menu, or by pressing F7, the View in Google Earth command, will use your custom markers.
If you've created a custom symbol set for ExpertGPS that you think others would benefit from, drop me a line or post a comment here with a short description and a link to the symbol set's URL. I hope this tutorial allows you to create high-quality maps from your GPS and GIS data using ExpertGPS.