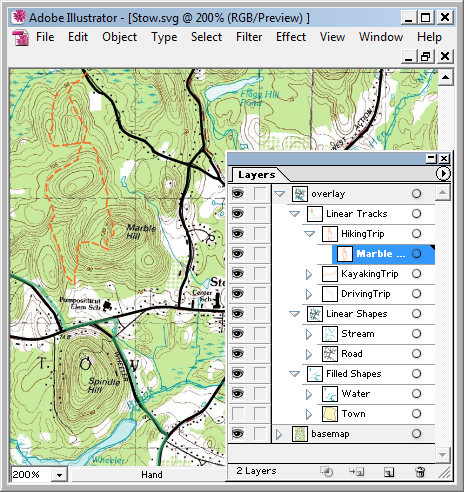 Many organizations and GPS hobbyists are looking to combine GPS tracklog data with GIS layers (contour lines, road centerlines, and boundary data) and create professional-quality maps. The styling features in ExpertGPS allow you to create some nice-looking maps, but sometimes you need to step up to a true graphics package like Adobe's Illustrator.
Up until now, it's been difficult to take your GPS data and import it into Adobe Illustrator. With the upcoming support for SVG export in ExpertGPS, you'll be able to take any GPX file and output it as Scalable Vector Graphics, which you can then import right into Illustrator. The image above shows the output from ExpertGPS in Illustrator: the topo map layer is on the bottom, and above that are layers showing the town boundary, all of the ponds and streams in the area, all of the major roads, and finally at the top, three GPS tracklogs I recorded around town.
I originally started implementing SVG support in ExpertGPS several years ago, but there wasn't much use for it at the time. Now that more browsers (Firefox, Safari) natively support SVG, and more people have the Adobe SVG Viewer for Internet Explorer, it's a more useful export format.
If you're involved in mapmaking using Illustrator or another vector graphics program and would like to help with the design of the "GPX to SVG to .ai" workflow in ExpertGPS Pro, or if you have other workflows you'd like to see ExpertGPS handle, please drop me a line.