Download a high-resolution, GPS-compatible USGS topo map for Little Hocking, OH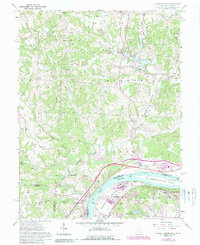 Preview of 1989 edition USGS topo map Little Hocking, Ohio
ExpertGPS mapping software includes seamless topo map coverage for the entire United States. And it also has the ability to automatically download and display complete, high-resolution scans of every USGS topo map made in the last century, including this 1989 edition of the US Geological Survey DRG topo map for Little Hocking, Ohio.
The thumbnail displayed to the right is just a preview image. The actual Little Hocking topo map displayed in ExpertGPS is a high-resolution scan of the actual paper topo map produced by the US Geological Survey in 1989, including the full map collar with a locator map, scale bar, and projection information.
The topographical maps in ExpertGPS are fully-georeferenced, which means that your GPS waypoints and tracklogs (and any other KML, shapefile, DXF, or other data you have) can be instantly mapped right over the Little Hocking quad map.
Downloading the 1989 Little Hocking, Ohio Topo Map
If you haven't already, download ExpertGPS (it's a free download) and recenter the map on the area around Little Hocking. (You can zoom in on the approximate area, or use the Go to Coordinates command to recenter the map on 39.3125, -81.6875.
To automatically download the topo map, click Automatically Add USGS Topo Map on the Map menu (under Scanned Maps), and select Little Hocking, 1989 edition, Little Hocking, OH, 1:24000. If you are interested in seeing how the maps for your area have evolved over the years, you can use the same command to go back and download additional historical USGS quad maps for the area.
Printing Your Own Copy of the Little Hocking Topo Map
If you are planning to go hiking or exploring in Ohio, you can use ExpertGPS to print a custom section of the Little Hocking quad to cover your activity. You can print at the original 1:24000 scale of the USGS topo map, or resize the map in ExpertGPS to any scale you want to get the best fit of the map to your printed page. And ExpertGPS will overlay a UTM, USNG, MGRS, or other map grid in WGS84 or NAD83 datum over your custom printed topo map, even if the original map has a NAD27 grid.
Before printing, you can mark up the map as much as you want, adding waypoints, trailheads, and road information. ExpertGPS even has a way to download the latest trails and roads from OpenStreetMap so that you can see the latest mapping changes that have occurred since USGS created your map in 1989.
Download the Little Hocking, Ohio Topo to your GPS
If you have a Garmin GPS that supports Custom Maps (like the Garmin Oregon, Colorado, Dakota, GPSMAP 64, and others), you can create a custom Garmin basemap out of the Little Hocking topo map, using the Send Map to GPS command in ExpertGPS. If your GPS doesn't support Custom Maps, you can still print out the Little Hocking quad with a UTM grid overlay in ExpertGPS, and keep track of your position on the map by matching UTM coordinates on your GPS, iPhone, or Android smartphone with the UTM grid on your printed topo map.
Get Started by Downloading ExpertGPS and the Little Hocking, OH Topo Map
ExpertGPS works with hundreds of GPS receivers
, including all
Garmin Drive
,
nüvi
,
eTrex
,
Colorado
,
Dakota
,
echoMAP
,
GPSMAP
,
Edge
,
Forerunner
,
Montana
,
Oregon
, and
Rino
models,
Magellan eXplorist
,
Meridian
, and
SporTrak
GPS receivers, and
Lowrance iFinder
,
HDS
,
Elite
,
HOOK
,
LCX
, and
LMS
GPS chartplotters and fishfinders.
Download ExpertGPS
Find your GPS on the ExpertGPS compatibility list
.