Creating a Map Legend in ExpertGPS

You can add a map legend to make your ExpertGPS maps more readable to others. Select a waypoint, track, or other object in ExpertGPS, right-click, and click Add to Map Legend. Enter the text to display on the map legend for this type of object.
The selected item will be added to the map legend in the lower left corner of the map.
To quickly remove an item from the map legend, select an item of that type on the map, right-click, and click Add to Map Legend again.
Organizing the Map Legend
To remove items from the map legend, edit the names displayed in the legend, or change the order in which items are displayed, click Edit Map Legend on the Map menu.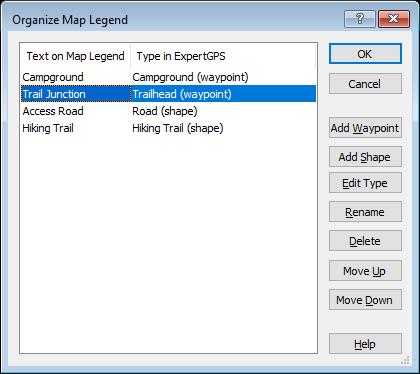 Click Add Waypoint or Add Shape to add a new entry to the map legend. Select from an existing waypoint or shape type, or create a new one.
If you want to adjust the color, line pattern, symbol, or other aspect of the appearance of an existing item in the map legend, select it and click Edit Type.
To change the text displayed on the map legend, click Rename.
You can rearrange the order in which items appear in the legend by selecting an entry and clicking Move Up or Move Down.
Printing and Image Export
The map legend will appear in the lower left corner of the on-screen map and in the same location on printed maps and images created using the Export Image command. There is currently no way to move the map legend to a different location on the map.
The map legend is a relatively new feature. Please get in touch if you have suggestions for future improvements.
ExpertGPS works with hundreds of GPS receivers
, including all
Garmin Drive
,
nüvi
,
eTrex
,
Colorado
,
Dakota
,
echoMAP
,
GPSMAP
,
Edge
,
Forerunner
,
Montana
,
Oregon
, and
Rino
models,
Magellan eXplorist
GPS receivers, and
Lowrance HDS
,
Elite
, and
HOOK
GPS chartplotters and fishfinders.
Download ExpertGPS
Find your GPS on the ExpertGPS compatibility list
.