See the View from Here in Google Earth
Want to preview the vista from the top of your favorite mountain before you go hiking? Google Earth offers a convenient way to look at the world from above, but it's nearly impossible to set your viewpoint in Google Earth to the proper altitude to simulate the actual view from the summit. ExpertGPS now makes this easy to do. Create and select a waypoint on the summit. Right-click on the waypoint, and click See the View from Here in Google Earth.
The See the View from Here dialog will appear.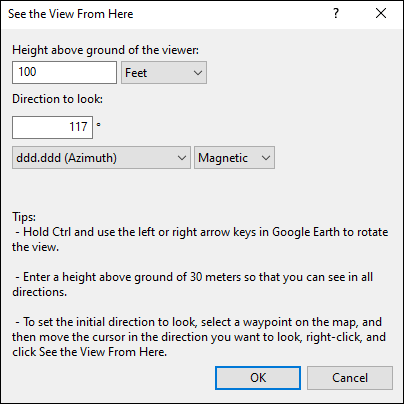 For best results, set the Height above ground to 100 ft, or 30 meters so that you'll have a 360 degree view from the summit.
The Direction to look controls which way you'll be facing in Google Earth. Tip: before you right-click on the map to select this command, move the cursor away from the waypoint in the direction you want to look. ExpertGPS will set the Direction to look automatically.
Click OK to start Google Earth and fly to the waypoint at the top of the mountain. To pan the view around 360 degrees, without moving from the summit, hold Ctrl and use the left or right arrow keys to rotate the view in Google Earth.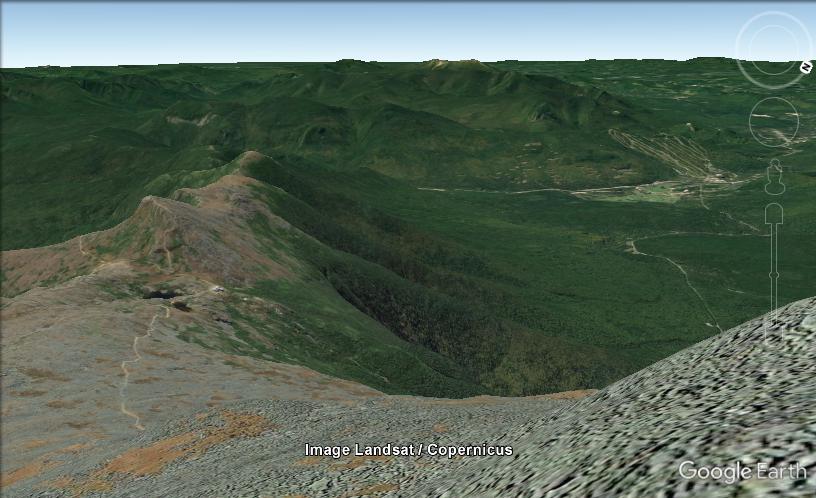 Of course, you're not limited to mountain summits when using this command. The next time you take a photo on a ridge-line hike, try using this command from points along your GPS tracklog and see if you can generate a 3D scene in Google Earth that exactly matches your photo.
ExpertGPS works with hundreds of GPS receivers
, including all
Garmin Drive
,
nüvi
,
eTrex
,
Colorado
,
Dakota
,
echoMAP
,
GPSMAP
,
Edge
,
Forerunner
,
Montana
,
Oregon
, and
Rino
models,
Magellan eXplorist
GPS receivers, and
Lowrance HDS
,
Elite
, and
HOOK
GPS chartplotters and fishfinders.
Download ExpertGPS
Find your GPS on the ExpertGPS compatibility list
.
© 1998-2023 TopoGrafix – 24 Kirkland Dr, Stow, MA – Email: support@expertgps.com