File Information Command
The File Information command displays the File Information dialog, allowing you to view or enter information about the GPX file, its author, and permittable uses for the data it contains.
To view or edit information about a GPX file, do the following:
The File Information dialog will appear.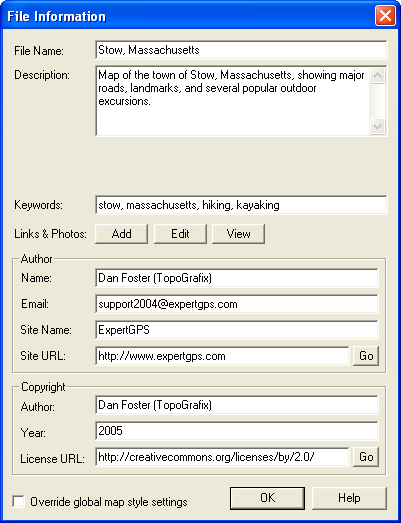 File Name

Enter a title for the GPX file's contents.

Description

Enter a description of the information contained in the GPX file.

Keywords

Enter a comma-separated list of words or phrases which best describe the contents of the file. Enter keywords that identify the location and the types of activities available there.

Links and Photos

Add, edit, or view Web pages or files related to the file.
Author
Enter information about the company or person who produced the GPX file.
Name

The author of the GPX file.

Email

Contact information for the author. The email address is stored in two parts in the GPX file, to reduce the risk of email address harvesting by spammers.

Site Name

The name of the author's personal or company Web site.

Site URL

A link to the author's Web site.
Copyright
Information about how the GPX file may be used, modified, and redistributed by others.
Author

The copyright holder and licensor of the GPX file.

Year

The year in which the file was created.

License URL

A link to a licensing agreement explaining the conditions under which the GPX file may be used, modified, or redistributed.
Override global map style settings

Each ExpertGPS user creates their own map style by defining Types in the Waypoint, Route, and Track editors. As a result, a GPX file created on your computer may look different when opened on a friend's computer. If it is critical that your map be displayed the same way on all computers, check Override global map style settings.
ExpertGPS works with hundreds of GPS receivers
, including all
Garmin Drive
,
nüvi
,
eTrex
,
Colorado
,
Dakota
,
echoMAP
,
GPSMAP
,
Edge
,
Forerunner
,
Montana
,
Oregon
, and
Rino
models,
Magellan eXplorist
GPS receivers, and
Lowrance HDS
,
Elite
, and
HOOK
GPS chartplotters and fishfinders.
Download ExpertGPS
Find your GPS on the ExpertGPS compatibility list
.
© 1998-2023 TopoGrafix – 24 Kirkland Dr, Stow, MA – Email: support@expertgps.com