Export Trackpoints Command
The Export Trackpoints command allows you to share the trackpoints in the Trackpoint List with users of other GPS and mapping software.
To export all of the trackpoints in the file, do the following:
Then, do one of the following:
To export only the selected trackpoints, do the following:
Select one or more trackpoints.
Right-click on the selected trackpoints and click
.
The Export Trackpoints dialog will appear.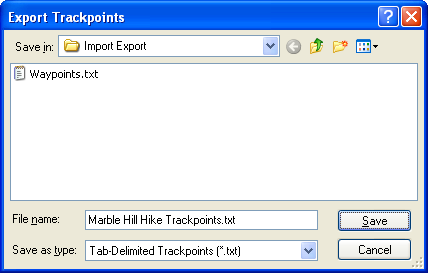 Tab-Delimited Trackpoints (.txt)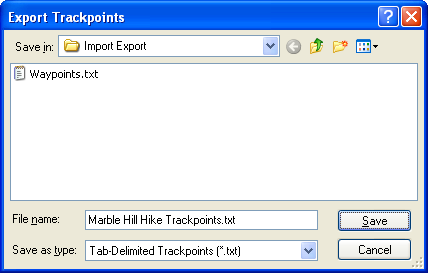 Tab-Delimited Text can be opened in a spreadsheet program like OpenOffice Calc or Microsoft Excel. If the first trackpoint in the list is part of the exported data, a header row will be added to the exported file. This format is also used when copying and pasting data between ExpertGPS and your spreadsheet.
ExpertGPS works with hundreds of GPS receivers
, including all
Garmin Drive
,
nüvi
,
eTrex
,
Colorado
,
Dakota
,
echoMAP
,
GPSMAP
,
Edge
,
Forerunner
,
Montana
,
Oregon
, and
Rino
models,
Magellan eXplorist
GPS receivers, and
Lowrance HDS
,
Elite
, and
HOOK
GPS chartplotters and fishfinders.
Download ExpertGPS
Find your GPS on the ExpertGPS compatibility list
.
© 1998-2023 TopoGrafix – 24 Kirkland Dr, Stow, MA – Email: support@expertgps.com – 978-760-4039