The Buffer Command: Create Wetland Protection Zones and Road Easements in ExpertGPS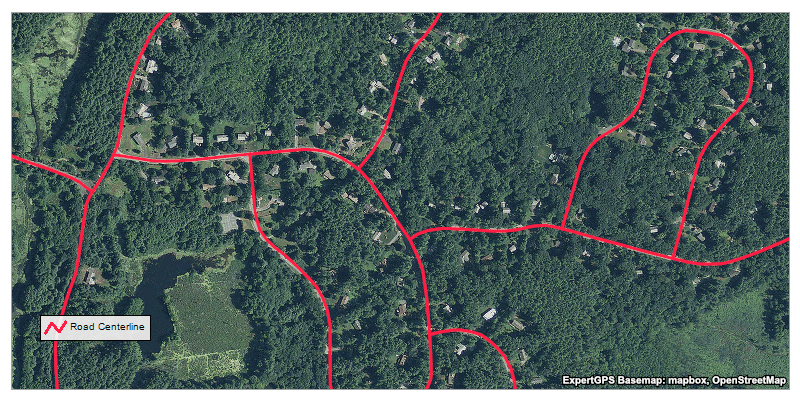 The Buffer command automatically draws a line or polygon at a fixed distance around the objects you select on the map. This makes it easy to create 50' wetland protection zones around ponds and streams, or easements along roads or rights-of-way. You could even layout central-pivot irrigators by marking waypoints at the center of each field and using the Buffer command to draw circular shapes around them.
You can also create buffers on the inside of filled polygons. For example, if you have a parcel of land, you can draw a 25 foot setback from the property lines and see exactly where it's OK to build.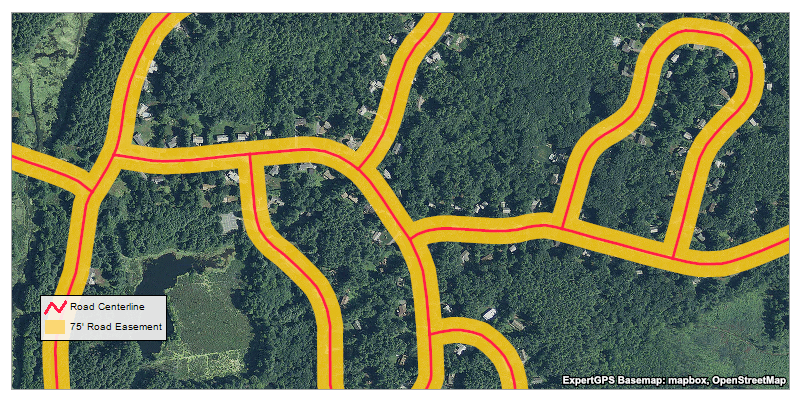 The Buffer command is available in ExpertGPS Pro. To create a new buffer, select a group of tracks, shapes, or points on the map, right-click and click Create Buffer. In the Create Buffer dialog, specify the distance (radius) at which the buffer line will be drawn. Select or create a new shape type for the buffered line or area. If you want a linear buffer (a polyline inset from the edge of a pond, for example), leave the Fill set to None. If you specify a solid or patterned fill, a polygon shape will be created instead of a linear polyline.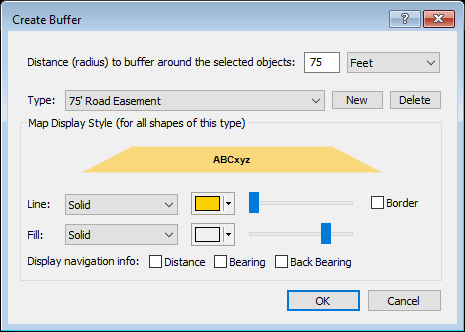 ExpertGPS works with hundreds of GPS receivers
, including all
Garmin Drive
,
nüvi
,
eTrex
,
Colorado
,
Dakota
,
echoMAP
,
GPSMAP
,
Edge
,
Forerunner
,
Montana
,
Oregon
, and
Rino
models,
Magellan eXplorist
GPS receivers, and
Lowrance HDS
,
Elite
, and
HOOK
GPS chartplotters and fishfinders.
Download ExpertGPS
Find your GPS on the ExpertGPS compatibility list
.
© 1998-2022 TopoGrafix – 24 Kirkland Dr, Stow, MA – Email: support@expertgps.com